MONTREAL
Montreal is the largest city in Canada's Quebec province. The city is named after Mt Royal and it is set on an island in the Saint Lawrence River. Its boroughs include neighbourhoods ranging from cobblestoned, French colonial Vieux-Montréal – with the Gothic Revival Notre-Dame Basilica at its centre – to bohemian Plateau. 
Top-Rated Tourist Attractions in Montreal
1. Mont-Royal
2. Old Montreal
getting around Montreal
By Metro and Bus
Société de Transport de Montréal provides public transport services.
The regular fare for a single trip is $3.25.
Public transport daily and weekly passes are available from STM for $10 and $25.75 respectively.
Montreal's Metro system runs from about 5:30 am to 12:30 am, Sunday through Friday, and until about 1 am on Saturday night. 
The same fares apply to both buses and Metro trains and the ticket can be used for both. Exact change is required if you want to pay on the bus.
The nearest Metro stop to the John Molson School of Business at Concordia University is Berri Uqam and the nearest bus stop is  Guy / René-Lévesque.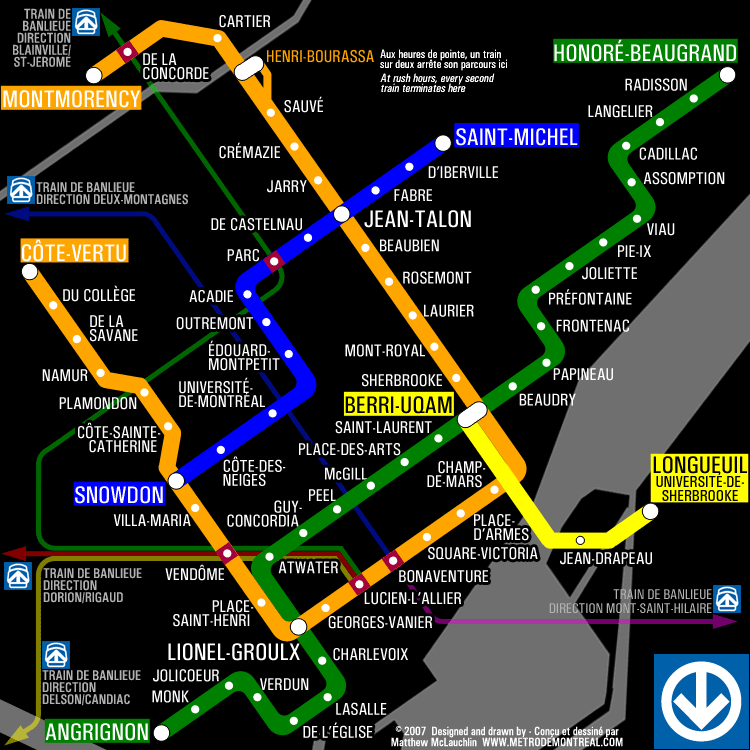 More information on schedules, routes and fares is available on the Société de transport de Montréal website. 
By Taxi
Taxis have a distinct plastic sign on the roof and the sign is illuminated when the cab is available at night. The initial charge is C$3.30. Each additional kilometre ( 1/2 mile) adds C$1.70. A short ride from one point to another downtown usually costs about C$8.
For taxi bookings contact +1 514 400-1005 or +1 514-739-9933 or book a taxi here.
practical information
Climate
Typical Montreal weather in June is as follows:
Average June temperature: 17ºC / 63ºF
Average June high: 24ºC / 75ºF
Average June low: 11ºC / 52ºF
Language
Montreal is one of the most bilingual cities in Quebec and Canada, with over 59% of the population able to speak both English and French. Montreal is the second-largest primarily French-speaking city in the world, after Paris.
Currency, Credit Cards and Exchange Rate

The currency unit in Canada is the Canadian dollar (CAD or C$).
1 EUR =1.55 CAD
1 CAD = 0.64 EUR
There are some online currency converters available, please take a look at:
http://www.oanda.com/convert/classic
http://www.xe.com/currencyconverter/
Cash withdrawal machines (ATM), banks and exchange offices are available city-wide. Well-known credit cards (American Express, MasterCard, Visa) are accepted in hotels, most of the restaurants and shops.
Taxes
Canada imposes a 5% federal goods and services tax (GST) on taxable supplies made in Canada.
Time Zone

Montreal is in the Eastern time zone of North America: EST GMT/UTC-5 hours 
Voltage
Canada's electrical supply and electrical outlets (sockets, wall plugs) are the same as those found in the United States.
The electrical supply is 120 Volts and 60 Hertz (cycles per second).
Emergency Number
Fire, Police and Ambulance Tel: 911
Montreal Police Tel: 514 280 2222
Tipping
It is customary to tip approximately 15-20% on the total bill before tax.
Business Hours

Bank Hours: In general, banking hours are from 10 a.m. till 4 p.m. during the week, often with extended hours on Thursday or Friday.
Office Hours: Most offices are open from 9 am to 5 pm Monday through Friday and 9 am to 1 pm on Saturdays.
Shop Hours: Shops are generally open from  9 a.m. till 6 p.m. Monday to Wednesday, from 9 a.m. till 9 p.m. Thursdays and Fridays, and from 9 a.m. till 5 p.m.
 Boost your itinerary
With a flight time of 1–2 hours from Montreal you will be able to explore popular destinations like New York, Quebec City, Boston, Chicago, Toronto, Washington D.C and many other North American jewels.
Click the links to find out more about tourist attractions in Montreal and Quebec Region.