Preparing your trip to Montreal? Check out our dedicated sections on:
- FLIGHTS
We update these sections regularly with the latest info.
MONTREAL
Montreal is the largest city in Canada's Quebec province. The city is named after Mt Royal and it is set on an island in the Saint Lawrence River. Its boroughs include neighbourhoods ranging from cobblestoned, French colonial Vieux-Montréal – with the Gothic Revival Notre-Dame Basilica at its centre – to bohemian Plateau.
Montreal museums
Top-Rated Tourist Attractions in Montreal
1. Mont-Royal
2. Old Montreal
 Montreal museums
1. Biosphere Environmental Museum
2. Rio Tinto Alcan Planétarium 
4. Musée McCord 
Tours and sightseeing
1. Quebec City and Montmorency Falls Day Trip from Montreal
2. Montreal City Guided Sightseeing Tour
3. Montreal City Hop-on Hop-off Tour
4. Independent Tour of Montreal by Bike
5. Jewish Neighborhood Food Tour
Find out more about all the things to do and see in Montreal.
ENTERTAINMENT & Events Happening in montreal
 Experience the city from different perspectives thanks to Montreal's various events and festivals. Jazz, comedy, avant-garde dance, poutine… You will discover a multifaceted city while immersing yourself in the local culture. You can also spend the evening in Montreal with a wide range of entertainments from pop concerts to musical's, theatre, family entertainment and sports.
Whether it is the international Jazz festival or the Formula 1 Canadian Grand Prix, there is always a party or event going on somewhere in the city.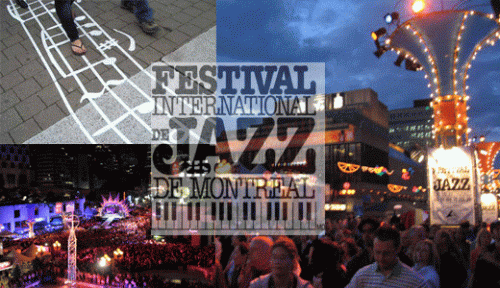 To find out more on the latest entertainments and events in Montreal, please visit Lonely Planet and / or the Official Tourism Montreal's website (this site allows you to filter the events by date) for more information. 
SHOPPING
Stores are usually open:
from 09:00 am to 06:00 pm on Saturday and from Monday to Wednesday, 
from 09:00 am to 09:00 pm on Thursday and Friday,
from 12:00 pm to 5:00 pm on Sunday.
Shopping districts include St Catherine street, Plaza Saint-Hubert, the Montréal Trust mall, the Mile End, the Outremont district… To check out the shopping options in the city, visit Montreal - What to do - Shopping.
FOOD
Local dishes

Montreal's bagels: In some Montreal establishments, bagels are still hand-made and baked in full view of the patrons. There are two varieties: black-seed (poppy seed), or white-seed (sesame seed).
Poutine: The main ingrédients of the poutine are french fries, gravy and cheese curds. 
Montreal-style smoked meat: Smoked meat with mustard and rye bread is identified as emblematic of Montreal's cuisine.
Hungry and looking for a good restaurant in Montreal? Visit www.mtl.org for recommendation on where to find the best food in Montreal.
 getting around Montreal
By Metro and Bus
Société de Transport de Montréal (STM) provides public transport services.
The regular fare for a single trip is $3.25.
Public transport daily and weekly passes are available from STM for $10 and $25.75 respectively.
Montreal's Metro system runs from about 5:30 am to 12:30 am, Sunday through Friday, and until about 1 am on Saturday night.
The same fares apply to both buses and Metro trains and the ticket can be used for both. Exact change is required if you want to pay on the bus.
The nearest Metro stop to the John Molson School of Business at Concordia University is "Guy Concordia" and the nearest bus stop is "Guy / René-Lévesque".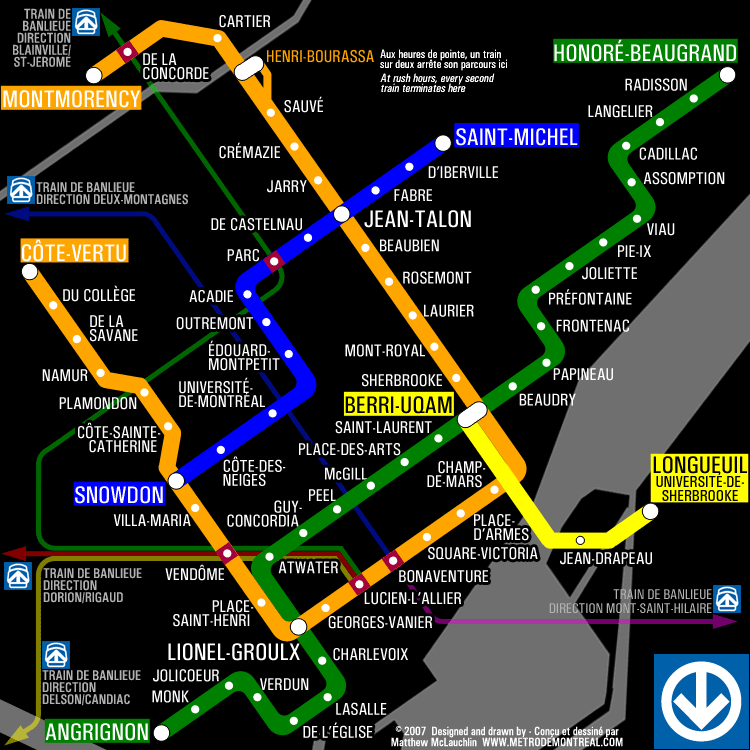 More information on schedules, routes and fares.
By Taxi
Taxis have a distinct plastic sign on the roof and the sign is illuminated when the cab is available at night. The initial charge is C$3.30. Each additional kilometre (1/2 mile) adds C$1.70. A short ride from one point to another downtown usually costs about C$8.
For taxi bookings contact +1 514 400-1005 or +1 514-739-9933 or book a taxi here.
Boost your itinerary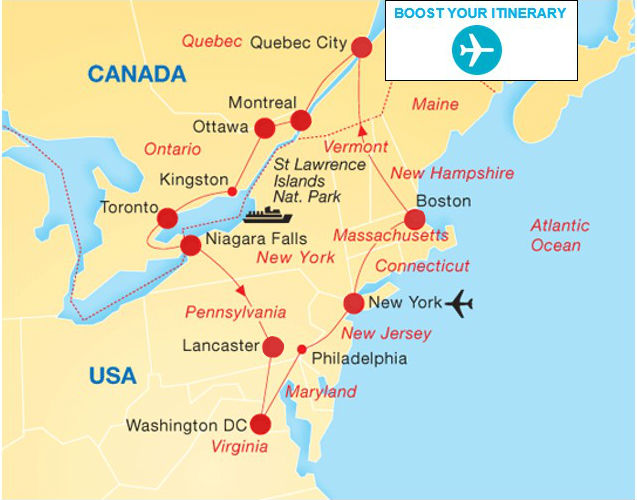 With a flight time of 1–2 hours from Montreal you will be able to explore popular destinations like New York, Quebec City, Boston, Chicago, Toronto, Washington D.C and many other Northern American locations.
Click the links to find out more about tourist attractions in Montreal and Quebec Region.
Montreal BY AIR
Most major airlines serve Montreal's Pierre Elliott Trudeau International Airport.
Note that travel time to the airport from the city centre can take an hour, depending on traffic. 
You can find more information on the website of the airport.
Benefit from our Conference flight deals to get a reduced price on our ticket to Montreal!
Montreal by train
It is possible to travel to Montreal by train from the USA and other Canadian cities, such as: 
- Ottawa: 7 trains a day operate to and from the city (2h, from $35)
- Toronto: 10 trains a day operate to and from the city (4.5h, from $85)
- Quebec City: 5 trains a day operate to and from the city (3h, from $47)

Via Rail offers train services from all over Canada at reasonable rates. More information on rates and bookings