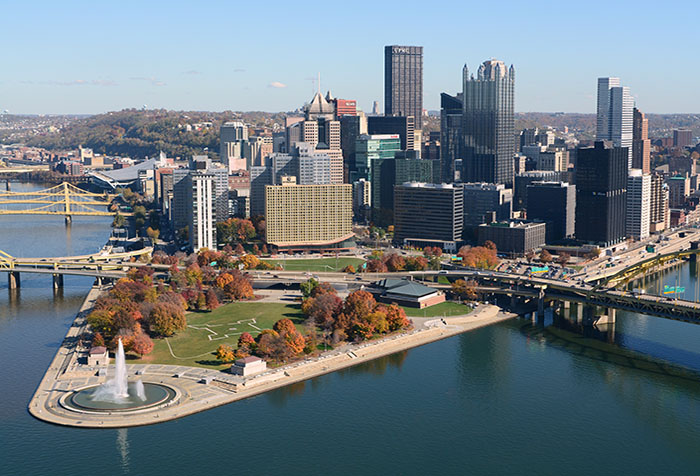 Pittsburgh is located in southwestern Pennsylvania at the confluence of three rivers: the Allegheny, the Monongahela and the Ohio. Known as the Steel City, Pittsburgh emerged in the late 1800s as a world center for coal and steel. Despite setbacks to the steel industry and a population decline over the last few decades, Pittsburgh remains the state's second largest city and an important industrial center.
Today, Pittsburgh is a city of 400,000, with a diversified economy that embraces high tech companies such as Rockwell Automation and financial services companies such as Mellon Financial and PNC Financial. Other top companies based in the area include Alcoa, US Steel, Heinz, US Airways and Westinghouse. Pittsburgh is one of America's safest and most affordable cities, with a high quality of life.
In 2015, Pittsburgh was listed among the "eleven most livable cities in the world". The Economist's Global Liveability Ranking placed Pittsburgh as the first or second-most livable city in the United States in 2005, 2009, 2011, 2012 and 2014. The region is a hub for Leadership in Energy and Environmental Design, sustainable energy, and energy extraction.
University of Pittsburgh is a public institution that was founded in 1787. It has a total undergraduate enrollment of 19,123, its setting is urban, and the campus size is 145 acres. It utilizes a semester-based academic calendar. University of Pittsburgh is ranked #68 in National Universities. Schools are ranked according to their performance across a set of widely accepted indicators of excellence.

Graduate School of Public and International Affairs (GSPIA) is a professional school with a diverse, cosmopolitan community of faculty, staff, students and alumni. Believing in ability to make the world a better place, GSPIA hones the passion of its students into purposeful direction and action. As part of the University of Pittsburgh, GSPIA is a leader in education, a pioneer in research and a partner in regional development—as well as one of the oldest institutions of higher education in the United States.Throughout its history, GSPIA has created a legacy that inspires graduates to make public institutions better, create a higher quality of government and promote social responsibility throughout the world.