Denver 
Denver is the capital of Colorado and the second-largest city in the Rocky Mountain West region of the United States. Known as "The Mile-High City", Denver sits at an altitude of 5,280 feet (1,600 m) above sea level and lies where the Great Plains give way to the Rocky Mountains. Denver is a large city and one of the fastest growing in the U.S.
Denver is home to nearly 700,000 people in a fast-growing metropolitan area of nearly 3.5 million people. The city embraces its cowboy and mining past but also looks toward the future with a thriving innovative economy, vibrant arts scene, dozens of great outdoor festivals, and distinct neighborhoods, each offering a unique experience. You'll find everything a cosmopolitan city has to offer, including spectacular views of, and easy access to, the beautiful Rocky Mountains, which are a short distance west of town.
Denver residents enjoy a temperate climate and about 300 days of sunshine per year, with four pronounced seasons. Spring in Denver is pleasant, though generally rather brief.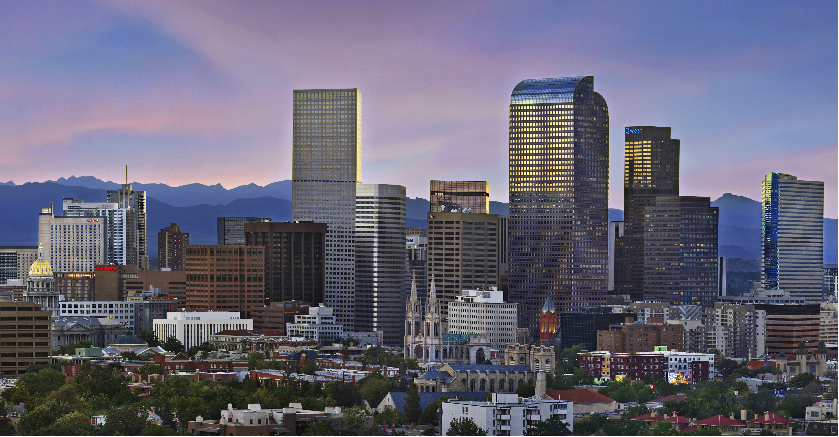 University of colorado Denver & school of public affairs
The University of Colorado Denver is a public research university in the U.S. state of Colorado. There are currently more than 15,000 students at the university's campus in downtown Denver.
The School of Public Affairs at CU Denver is ranked 34th among schools of public affairs in the United States and is fully accredited by the Network of Schools of Public Policy, Affairs, and Administration (NASPAA). The school offers a number of highly ranked programs, including environmental policy, nonprofit management, public management, and city management. The school also offers a Ph.D. in public affairs. Through community events and timely research, the School of Public Affairs is committed to making a real impact in Colorado, the region, and beyond.

Transportation
25.7 Miles separate the School of Public Affairs from the airport. About 50 minutes by car.